Real Variety at Real Wine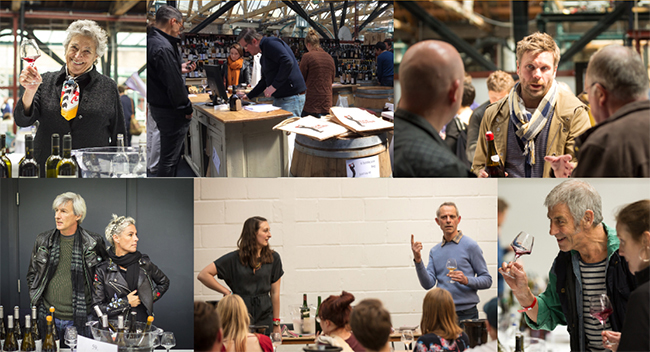 180 artisan growers from no fewer than 23 countries (a record number) will be attending this year. From within visitors to the Fair will be able to taste an array of around 900 wines, offering an amazing diversity of terroirs and climates, from vineyards on mountain slopes at high altitude to vines grown in sand dunes next to the sea, all made by a variety of methods in order to capture the essence of vintage and place.
Six growers from Sicily provide a special point of interest this year and one may discover wines made in a variety of vessels such as cement, palmento, qvevri, buried giare (amphorae) and chestnut barrels. Arianna Occhipinti will be pouring wines from a thrilling new project comprising three contrada (single parcel) Frappatos from vines grown on limestone bedrock. The seminal Vittorian wines of Giusto Occhipinti (COS) will also be on show; meanwhile, Salvo Foti, who revived ancient farming and winemaking practices on Etna with I Vigneri, will show old vines Carricante and Nerello, as well as the unique Vinudilice blend from a two-hundred-year old co-planted high-altitude vineyard. Fellow Etna producers Vino di Anna and Davide Bentivegna (Etnella) will also be present with their latest offerings. From the other side of Sicily, the wines of Marco de Bartoli perfectly illustrate the respective soils of Marsala and Pantelleria and there will some benchmark Marsala to try.
There is a record grower participation from Central and Eastern Europe with our first representatives from Serbia (Oszkàr Maurer) and Poland (Dom Bliskowice), a considerable representation of natural producers from Slovenia, Slovakia, Croatia, Hungary and, of course, the usual strong turnout from Austria and Germany, numbering some twenty-two in 2019.
Elsewhere, head to Portugal for some fascinating and original wines. Herdade do Cebolal will be exhibiting their "sea wine" called IMERSO, matured in bottles in cages lowered into the Atlantic Ocean. Another first is a solera-aged skin contact wine  from Vale da Capucha, and Aphros' biodynamic Phaunus wines raised in amphorae and made without any modern utensils or electricity.
Cutting edge Southern Hemisphere growers include Momento Mori's Dane Johns, who makes very pure natural wines from predominantly Italian varietals and blends grown in Heathcote (Victoria). Julian Castagna will have reds, whites, pet nats, skin contact wines and a couple of stunning vermouths on his table. Pat Sullivan, Xavier Goodridge and Gareth Belton (Gentle Folk) make up the remainder of the Australian contingent with ranges of wines that always possess terrific drinkability and oodles of natural charm. Real Wine Fair newcomer, Anna Flowerday, from Te Whare Ra in Marlborough, will be showcasing, amongst others, lovely organically-farmed aromatic whites from the oldest vineyard in the region.
We are pleased to welcome back La Garagista's Deirdre Heekin & Caleb Barber who make beautiful natural wines from hybrids grown in the alpine climate of Vermont. Their ciders are also extraordinary. Oregon vigneronne Kelley Fox returns with her deep yet elegant Pinot Noirs (plus an extraordinarily fine Pinot Blanc); Andrew & Annedria Beckham, meanwhile, will present wines fermented in clay pots crafted by Andrew himself, including a Syrah-Viognier co-ferment and Scott Frank's snappy "Loiregon-style" wines from urban winery Bow & Arrow are worth the detour. Artisan Californian producers include Evan Lewandowski (wines that start fermenting in California and finish in Utah), Martha Stoumen, Diego Roig (Populis) and Mike Roth (Lo-Fi).
With some fifty growers making their Real Wine debut the 2019 Fair will be a festival of discovery, as well as an opportunity to catch up with some familiar faces.