The Merry Real Wine Month of May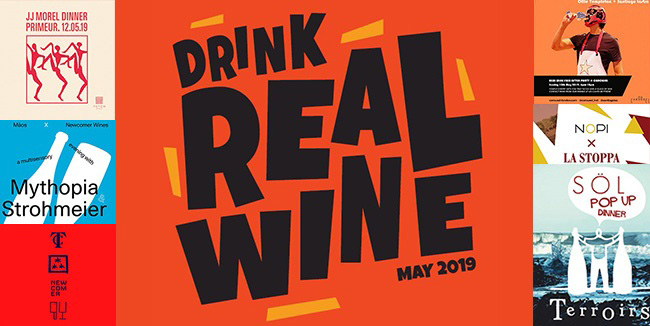 The Real Wine Month is upon us! Over 250 restaurants, bars, retailers and wholesalers have signed up to promote organic, biodynamic and natural wines in their respective establishments.
As well as the London tasting on Sunday 12th and Monday 13th May there are a number of other events being organised as part of Real Wine Month.
On May 4th, Weino BIB begin the first in a two-part celebration of the Real Wine Month and two forms of skin contact. 'Skin 2 Skin' will open proceedings with orange wine and will finish on the Saturday 25th with a party celebrating low-extraction red wines, focusing on their house favourite red bubbles.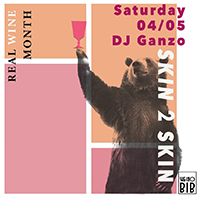 Showing wines from Georgia, Croatia, Slovenia and Italy, this will be an adventure to discover the range and the distinctive characteristics of skin-contact white wine. A flight of 5 wines will be £25, with all available by the glass on the night. Chef Mike Gawthorpe will be preparing a selection of plates to match the selection. Tickets for the wine sampling and food selection are £45. DJ Ganzo will be on the old skool house turntables, adding a blend of smooth retro.
On Sunday 5th May, Bedales at Spitalfields Market (E1 6DT) will be participating in Real Wine Month in their unique way. With host, Dan Belmont, Bedales' resident Wine Educator & Cheese Raconteur, in the chair, they will be hosting a pub quiz with a difference.
Each ticket will grant entry to the quiz night & include a flight of 3 mystery wines. Three wines, three rounds, 30 Questions. Three questions from each round will be about the 'blind' wine in the glass. All mystery wines will be natural wines made from organic or biodynamic grapes with minimal intervention in the winery.
Mãos x Newcomer features "A Multisensory Evening With Mythopia & Strohmeier." On 11th May at Mãos with the winemakers Franz Strohmeier, and Hans Peter-Schmidt of Domaine de Mythopia.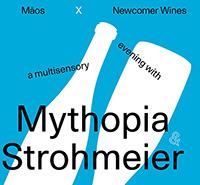 The process of observing, capturing and showcasing nature can be a paradoxical one; it is a constant search, both spiritually and materially, to find a point of view that is intensely personal and at the same time reflective of nature itself. At Mãos and Newcomer Wines, they share the belief that using only elements from nature to convey one's taste and creativity is one of the truest forms of expression.
Terroirs may have a deserved reputation as the land of the midnight midsummer Ganevat, but on Sunday 12th  they are popping up a lot further NORTH, to welcome SÖL, the hidden gem of Stavanger, Norway.  SÖL specialise in local ingredients, sustainability and natural wines – natch.  The passionate trio behind SÖL's success; Nayana Engh, Claes Helbak & Magnus Haugland Paaske will take you on a journey through the sophisticated and comforting flavours of their homeland, paired with wines selected jointly by them and Terroirs' wine guru, Kevin Barbry. Book here!
On Sunday 12th May, Morgan (Morgy) McGlone of Belles Hot Chicken in Australia, will be cooking his style of Nashville Hot Chicken at Brawn. Morgy travels the globe bringing Hot Chicken, natural wine and good times wherever he goes. Hot Chicken and Natural wine, what a combo. Doors open from 6pm, and it's no reservation, first come first served.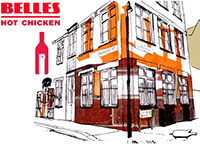 On Sunday 12th May, BASTARDA will be taking over Leroy in Shoreditch to celebrate the Real Wine Fair, taking place 12th and 13th May in Wapping's Tobacco Docks. Joined by Ben Walgate of Tillingham, and equipped with an entire barrel of his new-release wine, BASTARDA will be live-bottling, whilst Leroy deviates from its usual offering to grill up lamb skewers from Tillingham's farm in Sussex. BASTARDA and Leroy will also be curating a one-off wine list comprising their favourite producers from the fair.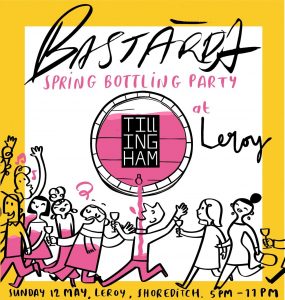 The fun at Leroy doesn't stop there. Does it ever? On Monday 13th May, Bow & Arrow's Scott Frank, who makes some rather nifty Loireoregon wine in Portland, will be spinning the platters (vinyl rather than charcuterie), whilst a list of his current greatest vinous hits is poured. Meet the man, his wines and his eclectic musical taste.
Primeur N5 & Totem Wines will be hosting Burgundy's Jean-Jacques Morel for a four-course wine dinner on Sunday 12th. Alongside Dominique Derain, Jean-Jacques Morel was one of the early adopters of natural farming in Saint-Aubin with just under 3 hectares of vines around the village and a small parcel in Blagny.
Cross a Mexican chef with a love for orange wines and what do you get? A Taco-and-Orange-Wine Fiesta! Another post-fair celebration (Sunday 12th 6.00 – 10.00 pm), this one being at Carousel, just off Baker Street. Expect resident chef Ollie Templeton and Kol's Santiago Lastra to out-taco each other against a vinous background of the quality amber stuff.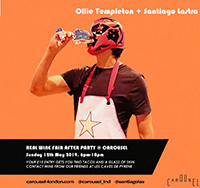 If you have supped wisely and well at any of the above, and want to soak up some post-fair bopworthy atmosphere, then Emily Harman, who has organised several events around natural wine fairs, pops up in 1 Bath Street, Shoreditch EC2A with Vinalupa x Rotate, fantastic natural wine from magnums paired with grooves care of Olly Roberts. Dancing is promised. Admission free, open from 5.00 pm until late.
Christian Tschida + Matassa (Tom Lubbe) x Newcomer – 100 Years Of Awesomeness Party.  Christian Tschida is having a big ol' birthday party in Austria for his 40th; his best buddy Tom Lubbe of Matassa has recently turned a tender 50; at Newcomer they are celebrating our fifth anniversary and so are their friends over at Hill & Szrok. What to expect? Christian and Tom (and their wines). Meats by Hill & Szrok. Oysters by Fin & Flounder. On a rooftop.  Sunday 12 May, from 3pm till late. Dalston Roof Park. All welcome.
Rennersistas is/are one of the most exciting up-and-coming winemakers from Burgenland in Austria. As part of Real Wine Fair, Ottolenghi Spitalfields is hosting a supper with Stefanie Renner, one of the sisters. Or even one of the sistas. Otto's chefs will be creating a special menu matching Rennersistas' wines and opening their doors on Sunday evening for those who would like to join.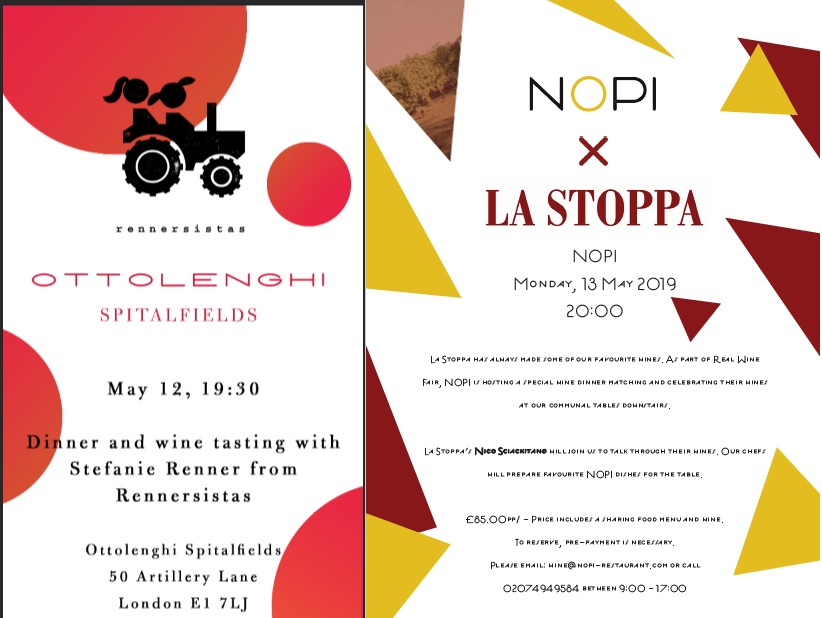 NOPI is also getting in on the Real Wine action by hosting a special wine dinner matching and celebrating the wines of La Stoppa at their communal tables downstairs on Monday 13th. La Stoppa's legendary Elena Pantaleoni will join the guests to speak about her wines, which in turn will be matched to a selection of NOPI dishes for the table.
Catch the Aussie breeze with our good friends at D'Vine Cellars who are having a Castagna Bar Takeover on Tuesday 14th May. Shoot the aforementioned breeze with Australian wine legend, Julian Castagna, who is taking over the bar, with son, Adam, to pour some of his phenomenal wines from Beechworth in Victoria, Australia. Customers will be able to taste his Chardonnay, the Adam's Rib Shiraz Nebbiolo, a Pet Nat, a Vermouth and others. Wine flights of 5 wines for £25; all Castagna wines also by the glass or bottle.
The real-wine-themed events continue throughout the month. On Tuesday, 21st May,  Vine Oxford, will be hosting "A Real Wine Tasting."
On the following evening, 22nd May, Les Caves' James Board, will be presenting "A Natural Wine Tasting" at Seven Cellars, Brighton.
Summary of Real Wine Month Events:
May 4th – Skin 2 Skin @ WeinoBib
May 5th – Natural Wine Pub Quiz @ Bedales, Spitalfields
May 11th – Maos x Newcomer with Franz Strohmeier & Mythtopia
May 12th – 13th – The Real Wine Fair, London
May 12th – Terroirs, Charing Cross x SÖL, Stavanger – Pop-Up
May 12th – Brawn x Belles Hot Chicken – Pop-Up
May 12th – Leroy x Bastarda x Tillingham (barrel bottling)
May 12th – Primeur x Totem Wines x Jean-Jacques Morel – Wine Dinner
May 12th – Taco & Orange Wine Fiesta @ Carousel with Kol Restarant
May 12th – Christian Tschida + Matassa @ Newcomer Wines
May 12th – Vinalupa x Rotate, 1 Bath Street, Shoreditch – Post Fair party
May 12th – Rennersistas @ Ottolenghi Spitalfields – Wine Dinner
May 12th – Milan Nestarec @ Peg
May 13th – Elena Pantaleoni (La Stoppa) @ Nopi, Warwick St (Wine Dinner)
May 13th – Scott Frank of Bow & Arrow @ Leroy, Shoreditch
May 13th – Grower takeover @Sager & Wilde, Paradise Row
May 14th – Castagna Bar Takeover @ D'Vine Cellars, Clapham
May 14th – Slobodne (Slovakia) @ The Laughing Heart, Hackney Road
May 15th – The Real Wine Fair, Ireland
May 21st – A Real Wine Tasting @ The Vine, Cowley Rd Oxford
May 22nd – A Natural Wine Tasting @ Seven Cellars, Brighton
May 25th – Skin 2 Skin – Part 2 @ WeinoBib